Return to Headlines
Two WLC Seniors Graduate from IMPACCT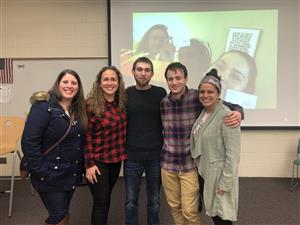 Over the course of the Fall 2019 semester, two students have enrolled in an ELO opportunity through New Hampshire Vocational Rehabilitation's IMPACCT program. Dylan Rondeau and Michael Wolfe III, seniors at WLC, earned 4.5 school credits in the areas of; Career Exploration, Health & Nutrition, English, Personal Finance, Consumer Science, and Computer Technology.
This program teaches students skills related to; careers and post-secondary education, employment skills, and self-advocacy. Students take part in career exploration, work-based learning experiences, transition skills, exploration of post-secondary programs, work readiness, advocacy training, and independent living skills development. Students were able to attend field trips, listen and learn from countless guest speakers, create and develop a personal resume and cover letter, and were able to establish real work-based experiences as part of their post-secondary goals.
Dylan and Michael put in 12 hours of coursework each week working on these areas of career-readiness competencies. They also had individual worksites where they worked three hours per week and were able to earn a stipend for each day they worked. Dylan worked at Lou's Custom Exhaust where he learned how to complete various car maintenance, along with tasks associated with running a business. Michael worked at Gurney's Automotive where he also learned about the day to day operations of this automotive shop. Both students had excellent attendance records and gave final presentations to school staff about their ELO experience. A graduation ceremony was held on January 16th, 2020, at Nashua Community College to recognize students throughout southern New Hampshire on completing this program. Dylan and Michael represented WLC in a professional and studious manner.